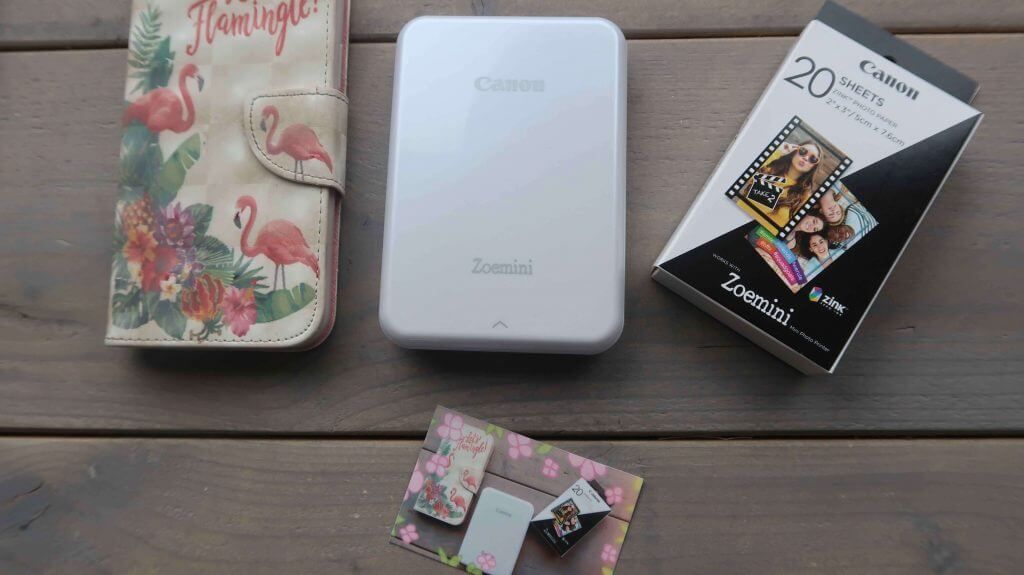 Photo's printing with the Canon Zoemini mobile photo printer
Photos's from your smartphone, what do you do with this? Have them printed, post them on Instagram or print them out? If you want to be able to print them yourself right away, you can opt for a Canon Zoemini mobile photo printer.
How this works exactly, read my review here.
Canon Zoemini
A mobile photo printer, it has been on my wish list for a long time. However, the price always stopped me. Still, just before summer vacation I decided to purchase a Canon Zoemini printer.
Why and why exactly this brand?
Why print out photos's?
The reason you want to buy a mobile photo printer can of course be completely different, for me it is, that I like to paste pictures's in my Journal. Journaling is a hobby of mine that I spend a lot of time doing. With my pages's I like to place photos's, not large photos'but of a small size.
My journal is actually a kind of diary, too nice to be able to add pictures here too's!
Choice of mobile photo printers
While searching on the internet, I found out that there are more brands that have a mobile photo printer. To be honest, I was only familiar with the HP sprocket. But after intensive searching and reading reviews, I found out that Canon also has a mini printer.
Now I have a Canon camera myself and am actually a fan of this brand, which is why I decided to focus on this printer. Searched for information and after long consideration, I decided to order the mini printer.
What is the Canon Zoemini??
With the Canon Zoemini printer you capture all your photo moments! You take this small and light printer with you in your bag or pocket and can print immediately. The printing paper is a photo sticker so you can also immediately insert or stick the photo wherever you want.
How it works?
When you have the Canon Zoemini printer in your home. you must download the app and connect the printer to your phone via bluetooth before using it. After this, the printer is ready to use. Choose the nicest photos on social media or from your photo albums and within 50 seconds you will have a cool little 5 x 7 photo.6 cm in your hand.
Make your photo's even more fun with stickers, text and borders
Before you print your photo with the Canon Zoemini printer you can also spruce it up with texts, drawings, stickers or borders around your photo. Or use the Tile feature in the app to turn several small photos into one large one or a collage.
For the most beautiful photos'use original Canon ZINK photo paper
The Canon Zoemini uses ZINK™ technology, allowing you to print without ink! In combination with special ZINK paper, you never have to change the ink! To print the most beautiful photos, use the original Canon ZINK photo paper. These are pricey, though again you don't pay for printer ink. Fair is fair, the price of this paper has held my back all along from buying the mini printer.
Still, the positives of the Canon Zoemini won out and what I am purely aware of is that I really only print the pictures's that I actually want to have. You can buy ZINK photo paper here.
Main features of the Canon Zoemini
Just a few more features of the Canon Zoemini:
Take it with you in your pocket or bag and print on the go
Print directly 5 x 7 photos.6 cm for yourself or others
Create your own photos'or download directly from Facebook, Instagram, Google Photos, Dropbox or iCloud
No ink needed!
What's in the box
What's in the package when you buy the Canon Zoemini printer? Of course, the Canon Zoemini printer review is not complete without listing them:
Canon Zoemini photo printer
1 package of ZINK™ photo paper (10 sheets of photo paper and 1 SMART SHEET™)
Micro USB charging cable
Short guide
Buy your own Canon Zoemini mobile photo printer? Have a look here.
How do you like the Canon Zoemini?
Since I bought the Canon Zoemini printer purely for my journal, I mostly use it at home, but when I'm on vacation, I take it with me too. I can then immediately paste the cutest photos's into my Travel Journal. The quality of the photo's is fine. Pay attention. The top edge of the photo is cropped a little bit.
Once I made the mistake of writing a text here but it was not readable afterwards. The borders around the photo's and the super cute stickers make the photo's even more fun.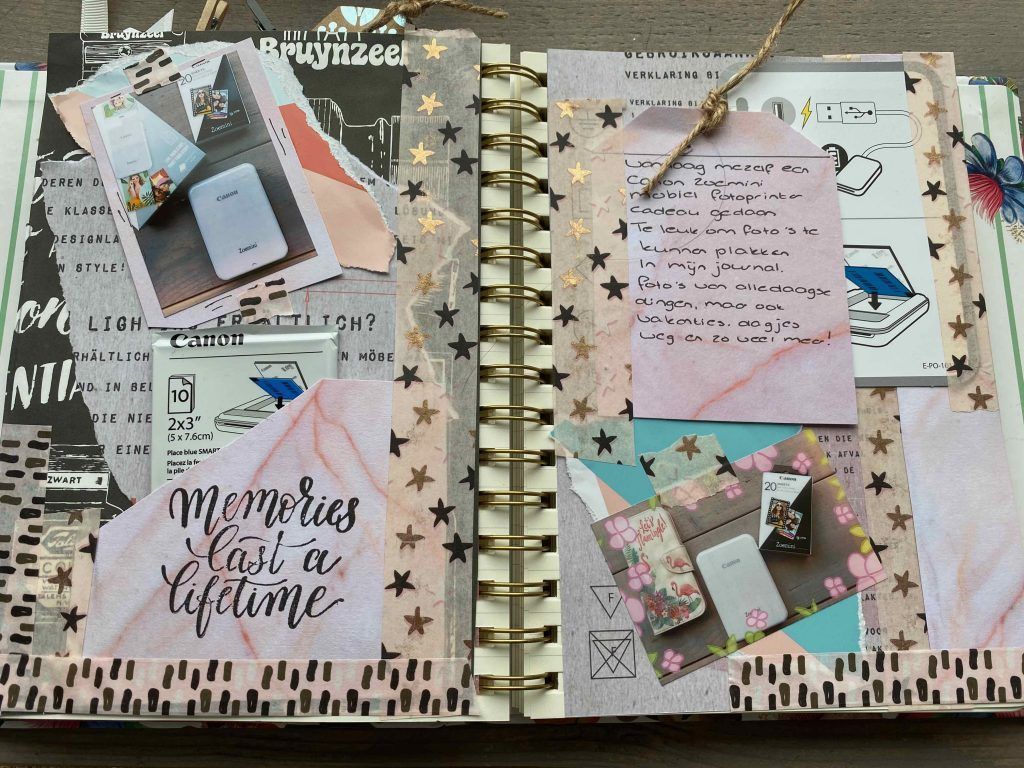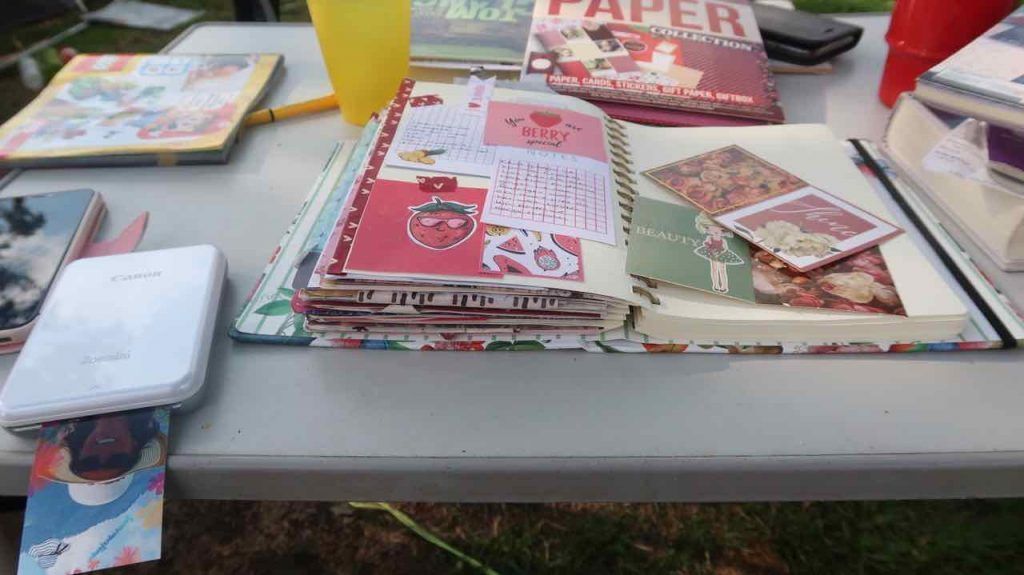 Even on vacation my Canon Zoemini goes with me
Ideal and very nice
I am very satisfied with the quality of the photographs. I think the format is perfect for my Journal, but you can also stick them on the fridge, give them away to friends (for example at a children's party) or stick them in and album. The Canon Zoemini weighs little and slips easily into your bag or pocket. I like editing the photo's with the stickers, texts and borders available in the app.
I am very happy with my purchase!