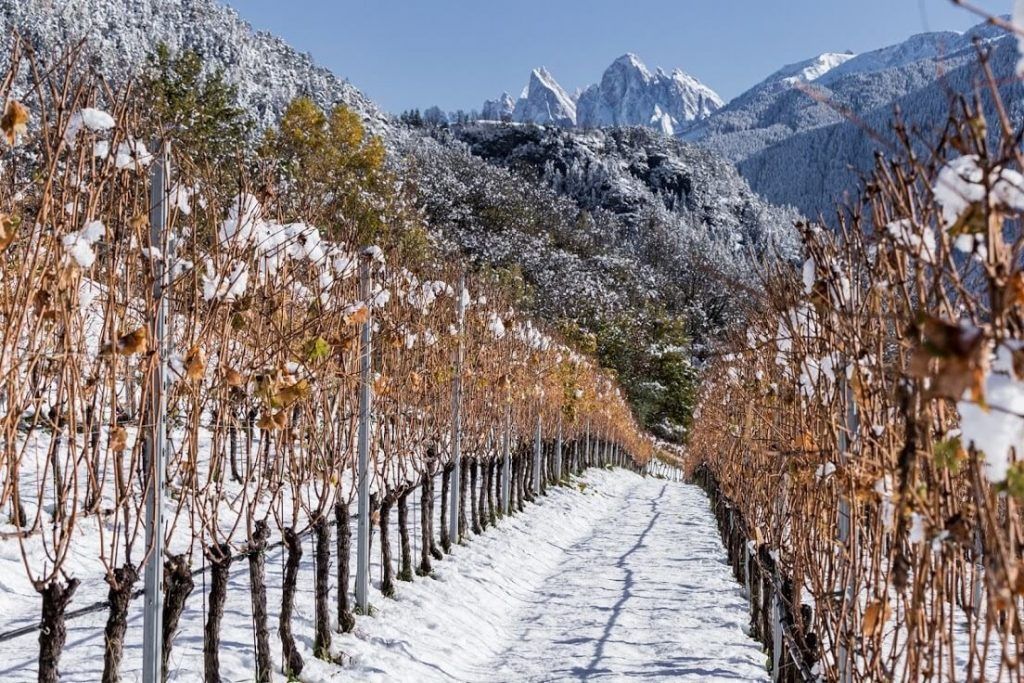 Christmas dessert with apple and caramel
When you think of South Tyrol in winter, you think of snowy mountain peaks, Christmas trees and coziness. Now we will spend this Christmas in a small circle. But we can bring this South Tyrol feeling into the house with a Christmas dessert of apple and caramel and a good glass of wine.
Celebrating Christmas at home
This year we will celebrate Christmas at home, in a small circle. But of course we will enjoy a delicious Christmas dinner! Since we are staying in our own country this year, it is original to bring in the special Christmas atmosphere from abroad.
Thus, Christmas in South Tyrol/Alto Adige is always a very atmospheric time, with snow-covered mountains, decorated Christmas trees, delicious food and fantastic wines. Few people know that you can also create this atmosphere in your own home in no time at all with a delicious Christmas dessert.
Excellent wines
Wines from South Tyrol are 98% DOC Alto Adige certified. This guarantees quality and is given to wine produced in a certain region of South Tyrol/Alto Adige. They owe their special character to a combination of a unique location of the vineyards and the ultra modern way of making wine.
Due to the winemakers' excellent know-how and the ideal climate, wines bearing the DOC Alto Adige quality label are characterized by their primary aromas.
Drinking with Christmas dinner
The special thing about Alto Adige wine is their great diversity of grape varieties. The traditional varieties such as lagrein, vernatsch and gewürztraminer are supplemented by others such as pinot grigio, chardonnay, weisburgunder and sauvignon blanc. In short, there is always a delicious wine from South Tyrol that can turn your Christmas dinner into an unforgettable experience.
You take care of the Christmas dessert?
Tasty food is of course part of Christmas, also this year. Make sure the table is nicely decorated, a delicious dinner is ready and dessert is provided. This year you can take care of the Christmas dessert and do so with a homemade apple dessert.
Ingredients for 4 people:
2 apples, e.g. South Tyrolean apple PGI
1 tbsp butter
2 tsp sugar, possibly brown sugar
For the batter:
2 eggs
120 ml of milk
40 g sugar
pinch of salt
1/2 tsp cinnamon (maybe a little more)
80 grams of flour
Also: 40 g butter for the mold and an ovenproof dish
For the caramel:
200 g sugar
100 ml water
2 packets of vanilla sugar
300 ml of whipped cream
100 g butter
¼ tsp cinnamon (if you want you can of course use some more cinnamon)
Preparation:
Preheat the oven to 180°C.
Meanwhile, peel the apples, remove the core and cut into wedges. Melt the butter in a pan and add the apple segments. Sprinkle with the sugar and caramelize. Remove from the stove.
Mix all the ingredients for the batter together: put the butter in the baking dish and melt in the oven. Remove the mold, divide the apple segments over the bottom and pour the batter over them.
Bake the apple dessert for about 25 minutes, until the edges have risen nicely and the dough has turned light brown.
For the caramel, boil the sugar with the water and vanilla sugar in a non-stick saucepan or in a saucepan.
Cook until the water has reduced and the sugar solution begins to caramelize. This can take up to 15 minutes or longer, stirring the sugar solution occasionally.
Pour in the whipped cream as soon as the solution turns light brown. The sugar is clumping now, that's normal.
Now add the butter and simmer and stir until everything is dissolved again. Finally, stir in the cinnamon and remove the caramel sauce from the heat. This one gets even thicker when it cools down.
Pour the caramel sauce over the apple dessert and serve immediately with freshly whipped cream and a glass of white DOC Alto Adige dessert wine.
What wine we drink with this?
Serve an elegant sweet white DOC Alto Adige wine from Goldmuskateller with this Christmas dessert. With its aromatic taste of white fruit and some spiciness, this wine goes perfectly with this delicious apple dessert of South Tyrol apples.